Brokers Beware!
CYA In These Crazy Times
As one of the leading voices of Registered Reps and their rights to Life, Liberty and the pursuit of higher returns, The SIPA has had an out pouring of e-mails and phone calls from Individual registered Representatives who are now being made the brunt of this cruel Bail-out Blarney.  As everyone knows by now, Bernie Madoff wasn't the only one in town who figured the regulators weren't looking.  Recently the SEC revealed that another Ponzi scheme in Texas was being perpetrated by none other than Alan Stanford.  The scary thing about this is not that he stole money for years without any regulatory intervention, but rather the fact the honest hard working Brokers tried to stop this and were turned away.  Click the image below to see the interview in its entirety.
Here is an honest and hard working Broker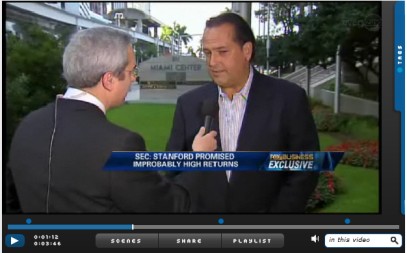 who is concerned for his clients, concerned for his firm and when he goes to his Compliance Officer he is shown the door and more shocking is that when he went to his regulator he was ignored.  Every broker should be taking steps right now to document each and every conversation and concern you have with your Supervisors and your Compliance officers.   Do not for a second assume that just because your compliance officer signed off on something that your job is done.  Right now it's every man for himself and it appears that brokers may be the easiest thing to throw under the bus.  For instance, we recently heard from a top five Wall Street firm Broker that he had his Form U-4 marked for the first time in 20 years due to a complaint that he "bought FNMA preferred stock for his client three years ago"! It was recommended by this will known company and was triple A rated yet due to the collapse on Wall Street, he is now being treated like he is a boiler room caller in Long Island selling time shares for land in Wyoming!.
When your company touts a company…You need to seriously check out their motives.  Many brokers for large firms have this crazy notion that as long as my company is pushing a particular investment it must be in the best interest of the client.  WRONG!!!!  Just remember that if you are brought up on charges of unsuitable investments you can count on two things:
You Company will NOT have your back and

The Trial attorney would love it if they did
Why is this?  When these over zealous trial lawyers get going they are like sharks smelling a wounded whale.  They know that the more blood that is in the water the greater the bounty.  Your company will not have your back because they do not want a class action suit against them or commercials about their firm and investments running early in the morning.  As for the lawyers, they would love nothing more then to get their claws into one of these companies that does get your back and admits that they encouraged all reps to buy a particular stock.  Don't believe me?  Without giving too much free publicity, check out the name of this web site:  www.SueMorganStanley.com
If you do get a customer complaint, we would urge you to do two things, let your compliance officer know and then contact your own outside counsel.  In-house counsel is paid to protect the firm first and foremost and anything that can open the firm up to exposure will be avoided.  This means that even if they know you did nothing wrong they may sit there mum and do nothing because you are just a pawn in their greater scheme.  We would urge all Reps to especially review and begin asking harsh and blunt question of their management in they helped raise capital for any hedge funds…especially if they were proprietary hedge funds.  You should demand total transparency of these funds and the fees and if they are unwilling to provide it….seek legal counsel immediately.  The SIPA is not a law firm nor are we offering legal advice…but if you drop us an e-mail we do know some quality lawyers with integrity and chutzpah