Broker Beware !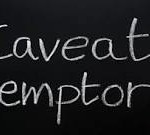 New Enforcement Sanctions from NAC 
Last week the FINRA's National Adjudicatory Council (NAC) released a statement that increases dramatically the sanctions on individuals found guilty of fraud and unsuitability.   In the statement NAC said:  
The revised Sanction Guidelines now advise FINRA adjudicators to strongly consider barring an individual respondent, or expelling a firm, for cases involving fraud. For individuals who violate FINRA's suitability rule, the range of the suspension has increased from one year to two years, and adjudicators are advised to strongly consider barring an individual respondent where aggravating factors predominate over mitigating ones. 
Once again we have a rule that on the surface appears to be aimed at investor protection and will help root out the bad guys.  However, when you dig deeper this appears to be nothing more than another tactic that will cause fines to steeply increase.  Suitability is a slippery slope with a lot of gray area not black and white.  The mere fact that a broker has a client that engages in low priced stocks can cause such a vast array of opinions from regulators.  I have read cases where certain fixed income products were deemed unsuitable for an investor.  I have personally handled customer complaints where a wealthy dentist from Buffalo claimed he didn't know he was on margin and wasn't suitable for it, even though the account ACAT'd into our firm on margin.  I have also received  a letter from attorneys who complained about suitability for a wealthy, elderly client because his portfolio of blue chip big board stocks declined during a market correction.   The problem with this revised sanction guideline is that it now gives these trial lawyers an open check book to go up against small brokers across the country.  A small firm that gets a complaint letter from a lawyer will be more likely to pay hush money than to fight the bogus claim.  The number of complaints will increase dramatically in my opinion because of this new standard.   The cost to firms will skyrocket from this and from the increasing cost of settlement with FINRA over charges of unsuitability.  If FINRA sends you a wells letter saying your firm conducted unsuitable trades for certain customers are you going to fight it knowing that the new sanction guideline calls for a lifetime bar or are you going to sign an Acceptance Waiver and Consent (AWC) for a boat load of money to avoid that risk? We believe this change is going to have devastating effects on small firms and quite frankly, we would recommend to brokers across the county to not only update the financials of every client they have, but to cut bait with any client over 60, that's not a multi millionaire and doesn't want to speculate.  I know this sounds ludicrous but the stock market is one big speculation and if your client doesn't understand this you shouldn't do business with them.   We also are disappointed that once again the small firm seats on the NAC board were not heard while yet another deadly blow was being dealt to small firms.