FINRA needs to get out of FRAUD business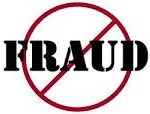 Recently we discussed in 'Broker Beware" the new NAC guidelines that call for a lifetime bar for unsuitability and for cases involving fraud.  While we think this can lead to an influx of trial lawyers attacking small firms with over blown claims of unsuitability in order to get them to settle quickly, we believe that in the case of fraud, the NAC panel got it right.  Or did they? FINRA remains a self regulatory nonprofit association that answers to the U.S. Securities and Exchange Commission.   Should FINRA be allowed to accuse people and companies of fraud or should that be left to the government?   The basic definition of fraud is: wrongful or criminal deception intended to result in financial or personal gain.   
We have no doubt that FINRA has uncovered numerous frauds that were being committed at various levels in the securities industry.  The question we have is should FINRA be making claims of fraud and then going to an industry hearing or should all claims of fraud automatically be sent to the SEC to handle?  In the real world when you commit fraud you usually are charged by a district attorney and are afforded a day in court to plead innocence or guilt.  How is it that a self regulatory organization can make a claim of fraud and go to a hearing with two industry panelists and an SRO hearing officer?  I live in a neighborhood governed by a Home Owners Association (HOA).  We can be fined for not cutting our lawn, trimming our trees or pressure cleaning our driveway.  We can contest these fines with a little HOA committee made up of volunteers and try to get them revoked or reduced.  It's bizarre to think that if I was engaged in a fraudulent check kiting scandal involving my HOA dues account that instead of being turned over to authorities for fraud, that the HOA could bring me up on 'Fraud " charges and then I could go to a hearing with a couple of my neighbors.  This is essentially what has been and what continues to occur.
We believe that if the SRO finds reason to believe a real and significant fraud is occurring, the SEC should be brought in immediately and then they should decide if the FBI or other law enforcement should be brought in. When real fraud is committed people need to go to jail not be suspended from association with an SRO.  Despite claims to the contrary, FINRA is not a government authority and cannot charge people or companies with fraud.  We understand that committing fraud is 'against member rules" but you should first be afforded the right to have your case heard in court.  FINRA should be required to turn any and all fraud charges (as well as suspicion of theft, murder and domestic abuse) over to the SEC for processing and if in fact the criminal act is pinned on the company or individual than of course, a lifetime bar is in order.  But as it currently stands, a non government SRO is making Government criminal accusations and then deciding on a punishment that should be in the hands of juries not industry insiders. In addition, they are permanently marking a person's record with an accusation of fraud in which it may or may not have occurred.