The Year that was 2015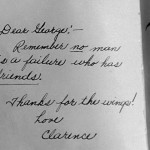 Happy New Year? 
It never ceases to amaze me how we become so sentimental on December 31st each year but by January 2nd we are back to our grind of running around, shopping , working, stressing and losing our patience with each other. All day today and tomorrow we will greet everybody we encounter with a warm smile and a "Happy New Year" blessing and will even hug and embrace casual friends and neighbors. I'm guilty of the same each and every year with a few exceptions. Every year since I was blessed with my wife and kids, I get choked up at midnight, can barely look at my wife or kids without crying and for brief moment I actually have kind words for my friends the Fishers and Sojos and instead of once again taking a sarcastic swipe at them.  I embrace them and thank them for being part of my life and my family's life. It's truly a rare glimpse into the world of me in which for one brief moment I let down my guard and become a normal, caring and vulnerable person. Of course by 12:15 am I am blowing off fireworks, drinking a beer and cracking sarcastic observations again but that's only because old habits are hard to break. This year in particular was very difficult for me for a variety of reasons which shall be ignored because that is what I do: I ignore the bad and cover up any hurt with humor, sarcasm, off color observations and some cynicism and so far it's worked out pretty darn well I'd say. Some psychologist somewhere is shaking his head and pointing out the fact that I am just covering up a problem, but I disagree. I think people worry way too much and dwell far too long on the bad in life and let it bring them and their lives down. How come nobody ever goes to a shrink to discuss the good in life? Imagine sitting on a couch and telling the doctor:" Hey my life is great, my job is awesome, my relationships are solid, I love my parents and I'm excited to wake up each day?? It amazes me how we dwell in the problems of the past instead of the joy of the future. One of my favorite quotes of all time is from this guy named Jesus Christ who once said:
"Therefore I tell you, do not be anxious about your life, what you will eat or what you will drink, nor about your body, what you will put on. Is not life more than food, and the body more than clothing? Look at the birds of the air: they neither sow nor reap nor gather into barns, and yet your heavenly Father feeds them. Are you not of more value than they? And which of you by being anxious can add a single hour to his span of life?
2015 was a great year for me if I only take the time to realize it. Our minds are conditioned to go back and remember the hardships, the loss, the deaths, and the stress we endured. We sometimes forget about the incredible moments we experienced in life and how it may affect others. In 2015 I was able to reconnect with old friends from my high school. I went to American Idol tryouts and a road trip with my teenagers. I presented a Marriage Encounter weekend with my bride of 24 years and broke down in tears of joy as we exchanged our wedding vows for the 20th time in 24 years. I witnessed the beauty and majesty of sunsets in the mountains of North Carolina and the sunrises over the Atlantic Ocean. I had the joy of crossing by boat to the Bahamas where I had beers and ate fresh caught fish with Captain Mark. I saw the lighting of the Christmas trees in Forest City, NC on thanksgiving night with my family as caroling was echoing in the background. I had dinner with my old H.S. basketball teammate Joseph Hunter in New York. I was able to watch Ron Sheehan jam with his friends at a bar in Charlotte. I called and spoke with some of my oldest friends Tim Sheehan and Ingrid Isdith a bunch of times this year and was able to kick Tim's arse in Fantasy football as well! (sorry Tim, I had to throw that in!) I got to meet NBA star Paul George in New Orleans and then watched the NBA draft in my hotel room in Atlanta with former NBA star Dale Davis. (I'm still unsure how that happened but Nummi and Jervis knew somebody?) I was able to play my son Johnny in basketball even though I am giving away height and 34 years. I also was able to have my daughter Claudia be surprised at the Improv when she turned 18 in October. Even with the pain of my Aunt Anne's passing, there was joy seeing all my Gunning cousins and my Keown family at the funeral. It reminds you of how much you miss your family and how you love hanging around with them. I was able to see my sister Beth and her family in a much better state after her battle with the dreaded " C" and for the first time in a long time reconnected with my younger brother Rick who has had himself a rough year as well. I righted some old wrongs I had committed in High School and will not say names but I thank them for forgiving me for being a jerk and was inspired by their ability to forgive, especially since I have such a hard time doing the same. Perhaps their love and forgiveness can help me break down some of my walls in the future. Lastly, I have experienced the joy of God's Desire for marriage to my wife Jeanny. Just like New Years and life, it's very easy to focus on the bad in marriage instead of focusing on the good. 2015 was an awesome year to be married to Jeanny! I made her a special video for our anniversary in September. We became leaders of World Wide Marriage Encounter for Central Florida and Jacksonville, we gave weekends to dozens of couples, we experienced a deeper love and connection and we were truly blessed to have some incredible people enter our life and touch us in ways we never thought possible. As I tear up here thinking about these incredible people in our lives, I so badly want to make a joke to divert attention. Instead, I think I will just thank everybody who is a part of our life and who helped make 2015 year another spectacular year. Your love and friendship makes life special no matter what is going on. I just wanted to take a moment and thank a few people who were important to me in 2015 and who are even more important in 2016. In no particular order, thank you to:
The Fishers, Sojo's, Golden's, Daniels, Postelweight's, Borjas', Martins, Rick Nummi, Chris and Barb Solis, Margaret and Kent, My mom, My mom in law, My sister Beth and my brother Rick, my dog Rocky for bringing sheer joy to our life, the entire Keown family and Gunning family, some woman named Claudia Busacca from Argentina who I befriended on facebook by accident ( I still have no idea what you are saying but you seem like a nice woman so I can't unfriend you), the Gallagher family, Dick and Dianne, Robin and Paul, Gary and Anne, Ken and Corrina, Tony and Nicole, Sheila and Bob, Judy and Jim, Dave and Lucy, Bob and Trudy, the Maxwells, Snyders, The entire class of Our Lady of Lourdes 1984 alumni,( It truly is amazing reminiscing with all of you) Robert Villare, Dave and Cheryl, the entire Rio Pinar Community I live in, Captain Mark Beloyan, Tim and Ron Sheehan ( no relation) , Ingrid and Al Martin ( sort of related) , Karolyn and Pete Baumgartner, (thanks again for the Rick Springfield book) , Andrew, Robin, Matt and Taylor, Andrew D, Amanda D, Marc, Evelyn, Stephen Weiner and his family (you are a good cousin cuz) Aunt Cathy, the Machado family, the Driscoll clan, Tom Nestor(sorry about those midget jokes last year, I swear I am going to stop), Mike Anderson,Liz Blum, Jazzercise, Fr. Chris Hoffman, Roger and Annie, Frank and Fran, John and Anne, Bob and Joy, Mike O'Donnell (despite his political views), Jackie Raciopiooppiiiooo ( she needs to get a shorter name that I can spell), the Zorilla's, Scott and Kris (despite her political views), Chris-Tom-Kevin Mulvaney ( I like their political views), Tim and Tammy Cates ( I like his views too), the Chenney family, Mr. Dahnke ( I don't care about his political views but I hate his college football views..Go MSU!) Tomas y Mercedes, Debbie and Jose, Hector y Illyana (there is no way I spelled that correctly), Karen Futyma (still can't believe she is Italian!) Danny Lalor, Chris Triano (now that's an Italian name), Bird, Larusso, Bernie McCoy ( who has vowed to play golf with me in 2016), Mary Darcy, Jayne Reed, Mandy, Misty, Joe Metz, Judy Ensweiler, Shaynna and Johnny Doughboy ( I think I spelled that wrong too) Vince and Letecia Butkevitz ( I know that's spelled wrong) , Elton Johnson, Glen Dingee, the Shircliff's, Jeff and Rachelle Everts, DonaldTrump, the Gay Men's Choir (just seeing if anyone is still reading), Scott and Sandy, Jeremiah, Kimathi, Debbie and Edgar, Eduardo my barber, Vaso and Mailaika Vasoliadiosamigo??? ..(ok that last name is impossible to spell) Camoin, Kelly Cass, Lisa Soap Sudds Weathefax, Bill Singer, Deanna and her family, the entire Hall family, Bernie and Millie Blanco, Patrick and Brenda Shelton, The Hotaling family (still in our prayers),Tony P. ( there s no way I'm trying to spell another Greek name after the Vaso flub) St Isaac Jogues and everyone else in the catholic church. If for any reason I missed you, its most likely because my fingers are tired from typing but in no way shape or form should you think of this as an omission, but rather you will be on my call list for 2016. Happy and prosperous New Year to everybody who has touched our life
 Dear John

Remember, No man is a failure who has Friends

Thanks for the wings
Thank you all for giving me wings ! Happy New Year!