The Misunderstood Male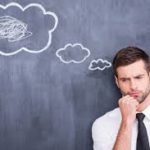 Understanding Finances and Women?
As I journey through this incredible life I have been blessed with, I have learned so many amazing things.  After 51 years I can honestly say I learn something new each and every day about myself, others and the world we live in.  As a person in the financial world, it's sometimes a very precarious and difficult position to be juggling the world of finance. Stocks, bonds, options, commodities and interest rates are floating around my mind while all the time I'm thinking about the rate of return and cost basis.   Amazingly, I can figure out in a mere few seconds the percent return on an investment spread out over 10 years or the profit on a option spread of Google.  When somebody throws out numbers for a private equity investment or wants me to sell their brokerage firm,  I can instantly tell you the valuation of the company and I sometimes watch 'Shark Tank" just to keep my mind thinking clearly and up to speed with 4 billionaires.  However, when it comes to women, I am totally clueless.  I am basically a 1st grader taking college calculus and literally have no idea what the professor is talking about.  My favorite formula was always E= MC Hammer squared. I have no idea who thinks of these things or why they are necessary in life.  How many times in life do we really utilize energy or mass unless we are eating spicy chicken wings and discover the public bathroom at the restaurant is not working?   Well this cruel equation got me thinking about my "love O' me life" and how I can figure out what the heck she is saying to this financial guy.  Then it dawned on me!  Perhaps instead of always trying to figure out what SHE is saying, maybe I can explain to her what US people in the financial world are thinking.  So here goes a very scary and dangerous tight rope walk that I am risking for the sake of all the men involved in the financial world.  Remember there is no safety net below, so if I fall, it's really going to hurt and do not attempt this at home until I give the all clear sign.  This is what guys are really saying when they talk to women:
" You should wear a bikini"   
 Translation:  I am not trying to control you or tell you what to wear. I want to see you walking around in your bra and underwear because I still love and lust for you, but if you won't wear your bra and underwear, wear a Bikini and we can all pretend you are not walking around in your bra and underwear but in fact, you are walking around in your bra and underwear, only they have flowers on them.
"I want to go in the hot tub with you"
Translation: I want to see you in your bra and underwear, excuse me, your bikini, and see you get hot and wet and watch beads of water drip down your body while my mind thinks impure thoughts about you in your bra and, ahem, BIKINI !!
" I want you to know really I love you"
Translation:  Oh my god, please don't ever leave me because I'd be lost if you ever left me. I can't believe you would actually take a kiss from me and I'm shocked we actually had kids together because that means you would have to…never mind.
" I'm not really hungry right now"
 Translation:  I'm not really hungry right now.  Thats it.  we eat when we are hungry, sleep when we are tired and watch football because it is  on T.V.
I want to give you a foot and back massage":
 Translation:  I want to touch your body from head to toe and make it to 2nd base while you think that I am being a great guy and massaging the kink out of your neck and helping you relax ( hee- hee… what a scam, I almost feel guilty about this one!)
"Everything is fine"
Translation: Everything is fine!. Ya see this is where men and women have a deep divide.  When I am asked if everything is fine, I usually respond with a YES or NO answer… but women always say the same answer: " I'm fine"…that's when you should start running.  You are in big trouble bud.  In reality, you are better off if your wife says " NO ITS NOT FINE" and then tells you what you did. The other response of " I'm fine" basically condemns you to 2-3 days of tip toeing and reflection about what the hell you did to piss her off!.
"Do you want to go to bed early tonight honey ?"
Translation:  C'mon.  Even Stevie Wonder can see this one. Men never want to go to bed early if there is Football, basketball, baseball, hockey ,Deadliest Catch, X-games or "Jackass" repeats on MTV available.  There is only one reason we want to go to bed early and if I have to spell it out for you , I'm guessing you probably should not be pitching stock to investors.
"I'm not crying I have something in my eye"
Translation: I just looked in my brides eyes, and I see in her eyes the women I married over 25 years ago and I am swept up in emotion of pure love and cannot figure out how I can love so strongly somebody who can drive me mad when she is driving, shopping or moody.  All I know is I would die for her and I have never loved anybody this much.  Of course, if she drove in a bikini I might not care as much!
Well, that's it.  See how simple communication can be?   For all the men and women who are married or God forbid, dating a financial professional, we thank you for your loyalty, love and patience with us lunatics!